Michael F. Kenny, Chief Executive Officer
Michael Kenny Selected as Chief Executive Officer of
The Library Foundation of Martin County, Inc.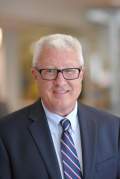 Noreen Fisher, President of The Library Foundation of Martin County is pleased to announce that Michael Kenny has been selected as the new Foundation Chief Executive Officer. Michael Kenny will succeed Dennis Fruitt who is retiring after three years as Executive Director.
"The Foundation has grown tremendously under the able leadership of Dennis as our Executive Director. The Board has thoroughly enjoyed working with him on both the stewardship of our longtime donors and in welcoming new supporters to our family of Foundation members, " stated Noreen Fisher. "We are thrilled to welcome Michael to the Foundation as our Chief Executive Officer and are looking forward to working closely together to enhance our outreach and continue our mission of providing funding for library programs and enhancements not otherwise possible with public funds."
Michael Kenny is a resident of Martin County and is very familiar with the Treasure Coast communities. From 2013 to 2016 he was the District Director for Congressman Patrick Murphy for the Treasure Coast, northern Palm Beach and Washington, D.C.
His prior experience includes: serving as the Executive Director of Florida Together, a statewide non-partisan advocacy organization; owner and manager of Great Harvest Bread Company in Lititz, Pennsylvania; director of Human Resources, Broward County Property Appraiser; and Director of Cultural Tourism, Greater Fort Lauderdale Convention and Visitors Bureau.
Originally from New Providence, New Jersey, Michael graduated from the Rochester Institute of Technology, College of Business with a BS with high honors. "I have enjoyed working in the business, not-for-profit and public service arenas over the years. To serve as the Chief Executive Officer of the Foundation aligns with my personal core values and offers me a wonderful opportunity to work with the community at large with a great organization that benefits everyone who use our public library system," commented Michael.
The Library Foundation of Martin County's mission is to acquire and administer funds to enrich library services and facilities not met by public funding and to endow the library system for future generations.