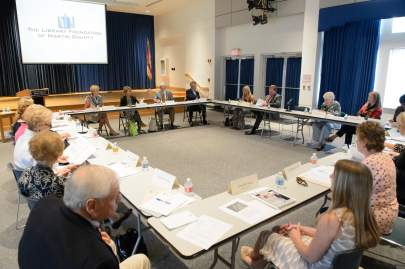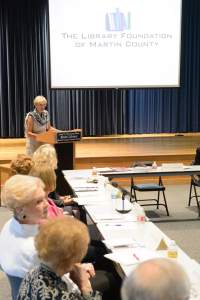 Board of Directors
Officers
Noreen Fisher, President
Christine DelVecchio, Vice President
Stacy Ranieri, Vice President
Charles Cleaver, Treasurer
Scott Konopka, Secretary
Directors
Joan Amerling
John P. Bracken
Michael DiTerlizzi
Patricia Ditmars
Denise Ehrich
Leigh Garry
William J. Gilcher
Jo Gressette
Lois McGuire
Alishia Parenteau
Xenobia Poitier-Anderson
Devin M. Teal
Magalen Webert
Former Presidents of The Library Foundation
Stephen R. Shaw (1992)
Milton Christie (1992)
James Sopko (1993 – 1994)
Michael F. Ciferri, Sr. (1995-1997)
Robert A. Cline, Jr. (1998-1999)
Gloria Wolfe (2000 – 2001)
Paula Hundt (2002)
Helen D. Blake (2003)
Wilford B. Brown (2004 -2005)
Patty D. Downing (2006 -2007)
Jack Christin (2008-2009)
Robert Pearson (2010)
Leo C. Clancy (2011-2012)
Priscilla L. Baldwin (2013-2014)
The Library Foundation of Martin County Welcomes New Board Members
Five new board members were elected to The Library Foundation of Martin County, Inc. at its annual meeting held at the Blake Library in Stuart on November 17, 2016. The new directors are Joan Amerling, Patricia Ditmars, Leigh Garry, Jo Gressette and Widget Webert.
Noreen Fisher, president of the board of directors, commented that, "We are very excited to add these talented women to our board and look forward to working with each of them to continue the mission of the Foundation as we enter our 25th year of service."
Joan Amerling's professional career has included journalism, television broadcasting and non-profit management. Patricia Ditmars has been active in libraries throughout her career. She was also the principal of her own architecture firm specializing in residential, medical and historical restoration. Leigh M. Garry, an active Dartmouth College alumnae, has enjoyed a career in banking as well as leadership participation with educational institutions. Jo Gressette's professional life has included an impressive range of positions in the field of education on a federal, state and local level. Magalen "Widget" Webert worked in banking and is a director of the Carlisle Companies, Inc.
The slate of officers for the 2016-2017 was also elected at the meeting. The officers are: Noreen Fisher, president; Christine DelVecchio, vice president; Charles Cleaver, treasurer; and Scott Konopka, secretary. Board members include John P. Bracken, Michael DiTerlizzi, Denise Ehrich, William J. Gilcher, Lois McGuire, Alishia Parenteau, Xenobia Poitier-Anderson, Stacy Ranieri and Devin M. Teal.
Noreen Fisher warmly thanked Stephen Fry for his many years of service on the board as his term ended.