The Library Foundation of Martin County in collaboration with the Martin County Library System Presents:

Once Again In-Person!
April 1, 2023 | 8:30am - 4:30pm
Jensen Beach High School Performing Arts Center
FREE ADMISSION
Authors will participate in one of multiple panel discussions featuring emerging and prominent writers. Titles by guest authors are represented through the library's regular, Martin's Most Wanted, and eBook collections. The event continues the successful evolution of "the most prestigious literary event on the Treasure Coast," first taking place in 1995.
It has hosted over 450 emerging and best-selling authors since its inception, attracting participants from all over the United States.
Here is the author list and schedule for the 2023 panel discussions:
8:45am Welcome - Sue Whittington
9:00am - 9:45am followed by signing
Florida Nonfiction – Peggy Chittum
10:10-11:10 followed by signing
Thriller/Suspense – Amanda Brack
11:30-12:30 followed by signing
Love, Friendship, and Ever After's – Linda Weiksnar
12:30-1:15 signing/lunch break – Sheriff Grill Team items for cash purchase
1:15-2:15 followed by signing
Historical fiction – Paula Hundt
Barnes and Noble Bookfair Voucher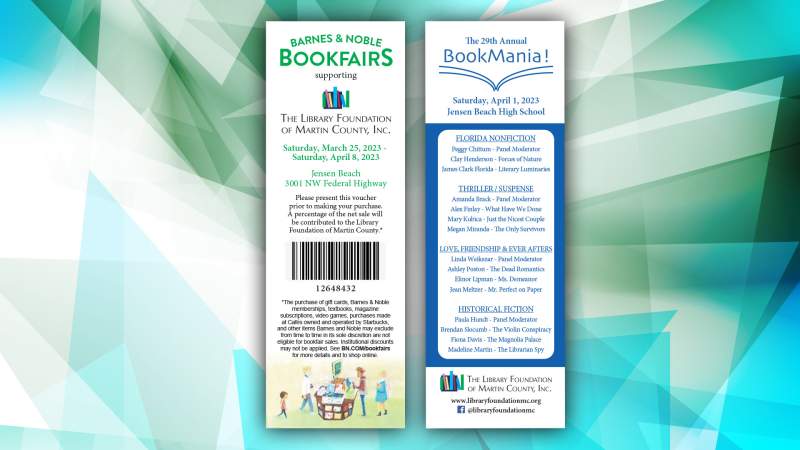 Starting Saturday, March 25th through Sunday, April 8th, you can shop at Barnes & Noble or online, and a percentage of your purchase goes to support the Library Foundation!
Here's how it works....
Save the Voucher Image on this post, and take it with you to Barnes & Noble and present when you are checking out.
Its that easy!
This is the perfect opportunity to expand your personal library with the BookMania! 2023 and A Literary Affair author's books.
This prestigious literary event is free and open to the general public.
CLICK HERE for Map and Directions to Jensen Beach High School