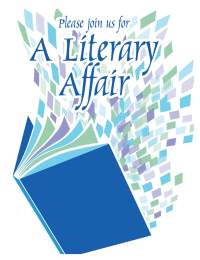 A LITERARY AFFAIR
2023
MARCH 31, 2023 | 6PM
HUTCHINSON SHORES RESORT & SPA | JENSEN BEACH
The Library Foundation of Martin County's biggest fundraiser of the year used to be a tried-and-true gala until a few years ago when the foundation opted to exchange dancing for dialogue, creating A Literary Affair.
Intimate and unique, A Literary Affair hosts BookMania! authors for an evening of libations, fine dining and literary conversation.
The evening affair starts with a cocktail hour, when guests can mingle with all of the authors, followed by a three-course gourmet dinner. "What's unique about the dinner is that each table will have at least one author at it to engage in conversation about their book and their process of writing a book," said May Smyth, foundation patron. "There is no band or dancing, we work to keep the room quiet so we can have intimate conversation with the authors."
A Literary Affair is a key fundraiser for The Library Foundation of Martin County. BookMania! is a free, public event, however, the funds raised at A Literary Affair help underwrite the event's expenses, as well as other community literacy programs.
Thank you to all the sponsors that made 2023 a success!