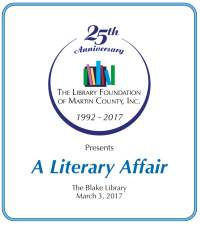 A Literary Affair is our major annual fundraiser held in conjunction with BookMania! to generate critically needed funds to support a range of cultural programs for all residents of Martin County.
The evening event is held at The Blake Library, beginning with cocktails at 6:30 pm followed by a sit-down dinner in the Armstrong Room. The intimate event is limited to about 120 people including sponsors and the BookMania! authors who are the guests of honor.
The evening affords a rare opportunity to meet and talk with the visiting authors who have travelled from around the country to join us. Sponsors also receive VIP parking and seating at the BookMania! event the following day. If you haven't yet attended, please plan to join us next year.